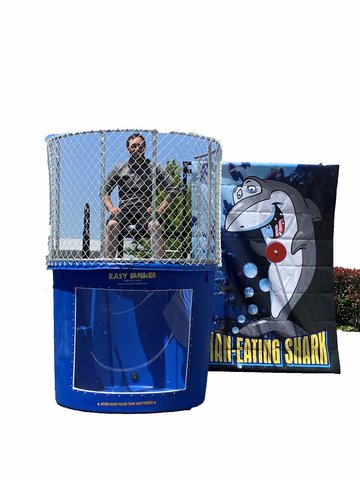 Setup Area: 13w X 8l X 10h
Age Group: 18-60
Description
Our new dunk tank rental is a perfect addition to your upcoming event. This is our top renter for both fundraisers and corporate events. This attraction is fun for everyone, whether you're the dunkee, dunker, or just watching the action, you are going to have a great time. Our dunk tank features a shark back drop behind the target for both safety but also adding a little bit of fun theming for your event. Also featured is a window viewing inside of the dunk tank so spectators can enjoy watching the dunkee falling and splashing into the cold pool of water. Included in the dunk tank rental is themed safety back drop, three specialized foam balls for throwing, set up and break down. We need approximately a 6 ft clear pathway to the set up location and the delivery location must be truck and trailer friendly.
Dunk Tank Rental Delivery Area
We deliver our dunk tank rental to Santa Rosa, Petaluma, Rohnert Park, Windsor and throughout the Sonoma County Area. Minimum order may be required to qualify for our free delivery. We need a 6 ft clear pathway to move the dunk tank through.
Customer must provide hose and water access to the set up location to fill the dunk tank. Approximate amount of water needed to fill is 450 gallons. Depending on water pressure it can take between 30 minutes and an hour for most locations. If you have weaker water pressure it can take up to two hours to fill. We will show you where to fill the dunk tank to (no less than 6 inches from the top). The drunk tank will drain at the set up location through an easy release drain valve. Must be drained if being left unsupervised.

Safety Features:

Chain link fence raises around the pool protecting the dunkee from any errant throws.
Shark themed back drop stops any near misses of the target.
Viewing window to ensure spectators and/or supervision can see the dunkee at all times.
Safety lock on dunkee seat to ensure the dunkee is ready to be dunked.
Safety rules are printed on the side of the dunk tank.
Easy release drain valve to drain the water when done with use.