Inflatable Slide and Obstacle Course Rentals
We have the expertise and selection to help make your event special.We have a great eye-catching Firetruck slide. Expecting a lot of guests? Then these inflatable slide and obstacle course rentals are perfect to wow your guests. We know the importance of keeping the line moving and our 36ft Obstacle Course and Giant Double Slide are the perfect choice for schools, churches, and other large events where moving a large crowd is key. All of our inflatables are manufactured from "lead-free" vinyl and are cleaned and sanitized after every rental for your child's and guest's safety. Browse the selections below and click on the image or "More Info" link to get additional information and to make a reservation.
Can't Decide?
Take a look at the video to the left. In the video you will see our 95ft obstacle course in use, zorb track, and more of what we have to offer. We have a little bit of fun available for everyone of all ages.
  slides and obstacle courses
Jumpin Jacks Extreme Obstacle Courses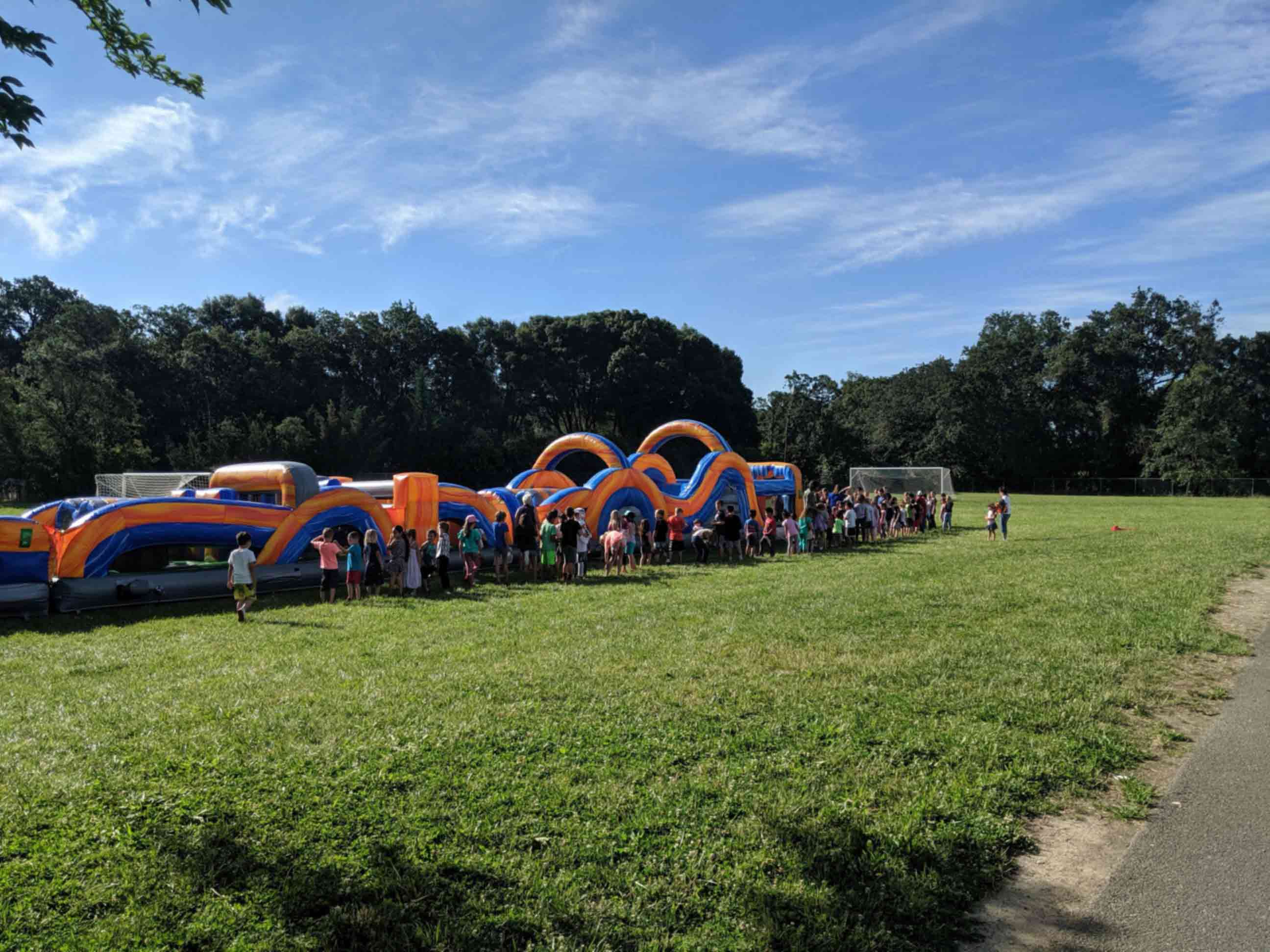 95 Ft Radical Run Obstacle Course
This is our largest and most intense obstacle course yet! Ideal for junior high, high school, and adult ages. This obstacle course has you running through 65ft of pure obstacles. Once you've reached the end of the obstacle course you must then climb up the dual lane rock climb slide and race your friend through the final finish line!

We recommend this obstacle course for ages 8 due to the length and intensity.


95ft Radical Run Obstacle Course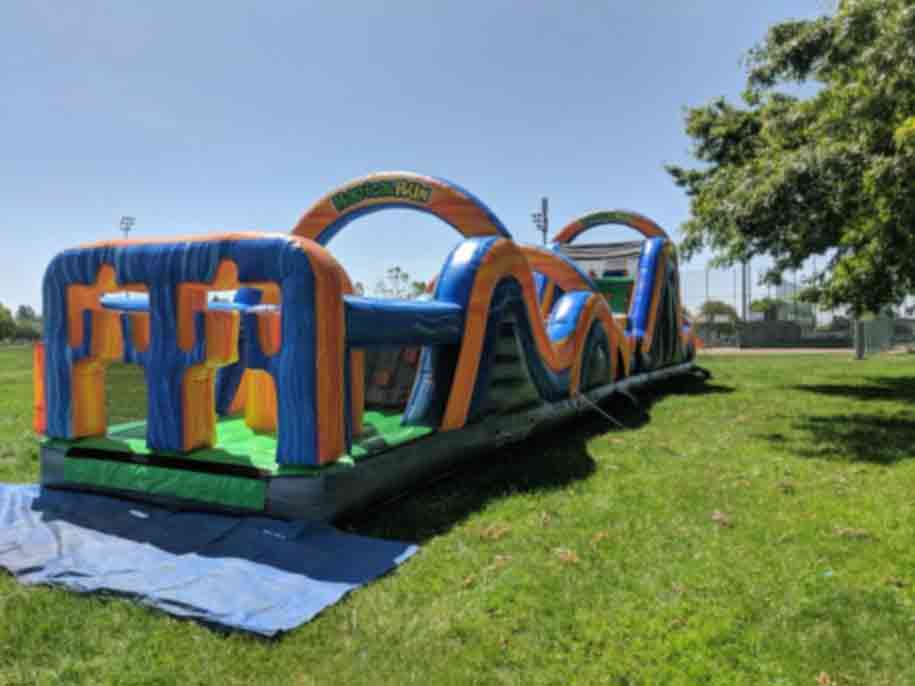 65ft Radical Run Obstacle Course
Our Radical Run 65ft Obstacle Course is our most popular configuration. This obstacle course is ideal for all ages. First blast through the pop ups and climb the first mini slide leading to more obstacles to crash through. At the end climb the dual lane rock climb slide and race to the finish line.

Recommended for ages 4+


65ft Radical Run Obstacle Course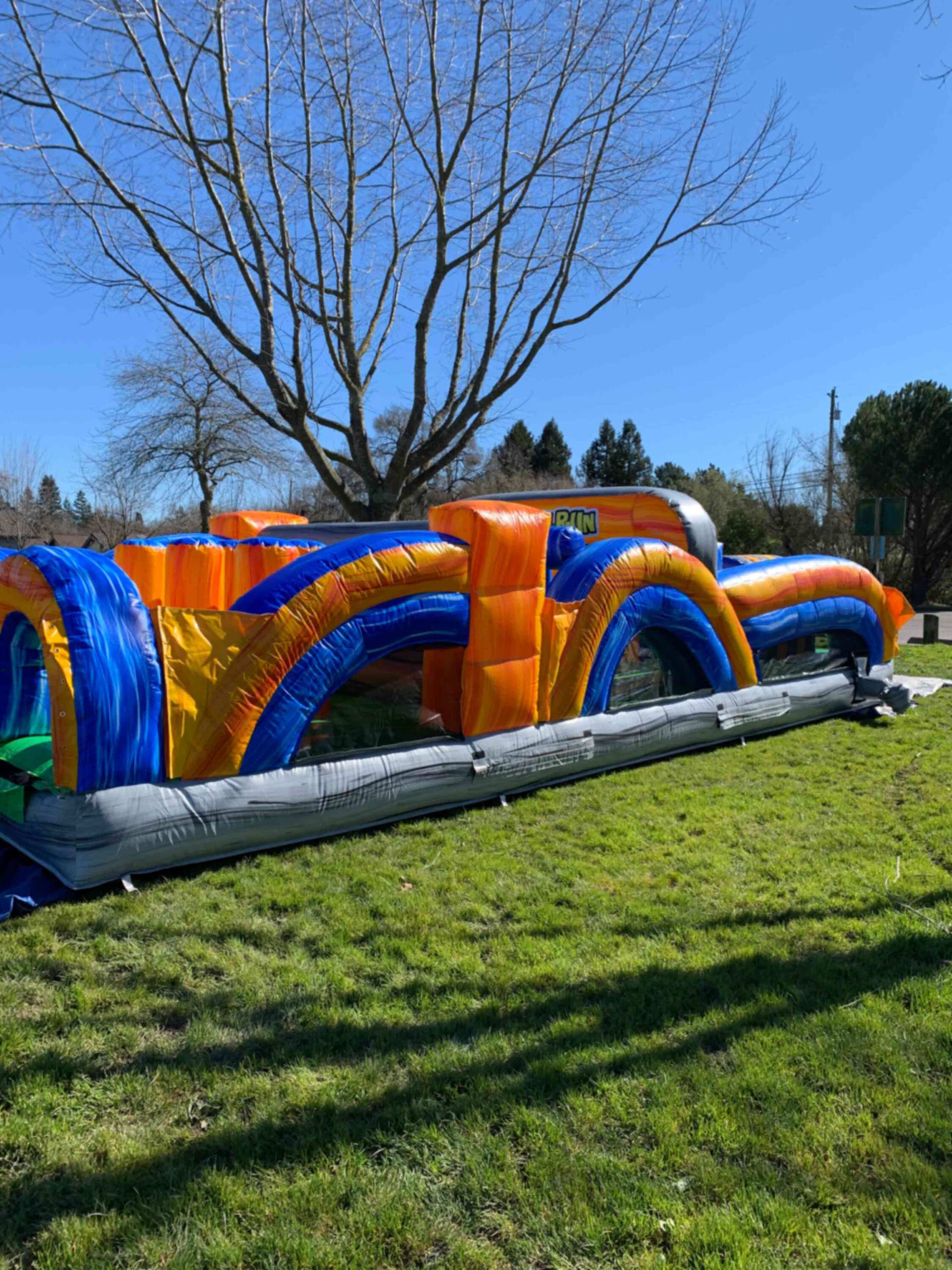 Radical Run 7
The Radical Run 7 obstacle course offers the most obstacles to crash, climb, and crawl through to the finish line. This obstacle course is perfect for locations with smaller set up areas measuring 30ft long. Great for birthday parties, team builders, and church events alike.

Recommended for ages 3+


Radical Run 7 Obstacle Course
Jumpin Jacks Large Dry Slides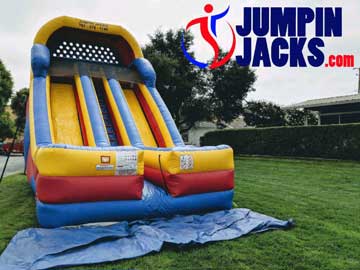 20 Foot Double Slide
This is our largest and fastest slide. This slide features a front loading option with side exits allowing for easy monitoring of the unit. Large inflated walls create a safe barrier for sliders to stay on the inflatable. Safety net is installed at the top of the slide to ensure no jumping, flipping, or climbing at the top of the unit.


Giant Double Slide Rental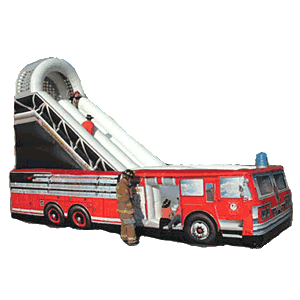 18 Foot Fire Truck Slide
The Fire Truck Slide is sure to impress your event goers. This slide has a printed fire truck design across the vinyl. This inflatable slide features a single lane and entrance and exit. There is a large inflated landing zone at the end of the slide that is fully enclosed for safety. The single entrance and exit allows the monitor of the slide to easily control traffic up and down the slide and ensure all safety rules are followed.


Fire Truck Slide Rental
Looking for Water Slides?
Too hot right now for dry slides and obstacle courses? Take a look at our
water slides
and dunk tanks that you can stay cool with this summer. We have amazing water slides ranging from our smallest classic splash down water slide to the new extreme ocean battle water slide!
Our
dunk tank
features a window to watch your friends, bosses, or teachers splash into the water and swim around after hitting the target. We also offer a reverse dunk tank called
the big splash
that pours a bucket of water on your head instead of falling into the water yourself.
Frequently Asked Questions
Jumpin' Jacks is Sonoma County's highest rated inflatable company. We offer the best inflatable bounce houses, obstacle courses, giant slides, dunk tanks and more for your event! We have helped put on corporate picnics, school field days, church festivals and more. If you need help planning the fun for your event, we're here to help.
We also have all the extras to add to your party to make it a hit. Including cotton candy, sno cones, giant games like connect 4 and more.
We also offer an
on-time guarantee
. If it's not on time you don't pay a dime!
YES! Absolutely. Many of us at Jumpin' Jacks are parents as well and treat every event as if we are setting up for our own child's party. We will clean every inflatable at set up as well as at pick up to ensure a thorough job is done just for you.
Reserving is Easy! There are just four easy steps.

1) First select your party date and time.

2) Select you bounce house from the options available.

3) Fill out your information for delivery

4) Pay the 20% deposit to secure your reservation.

Once you are reserved you will receive a confirmation email. We will follow up with you 1-2 days before you party to let you know our estimated time of arrival for your event.