Petaluma Water Slide Rentals | Petaluma California
Jumpin Jacks delivers water slide rentals throughout the Petaluma, Ca area. We have water slides ranging from 12' to 19' tall with multiple themes and styles to choose from. Water slides are perfect during the summer months for birthday parties, bbq's, corporate and church picnics. Jumpin' Jacks and our staff are committed to ensuring all slides are cleaned and sanitized before and after every use.We have been delivery inflatable water slides for over 15 years and are experts at setting up for events large and small. Below you will find our current selection of water slide rentals with different themes and sizes.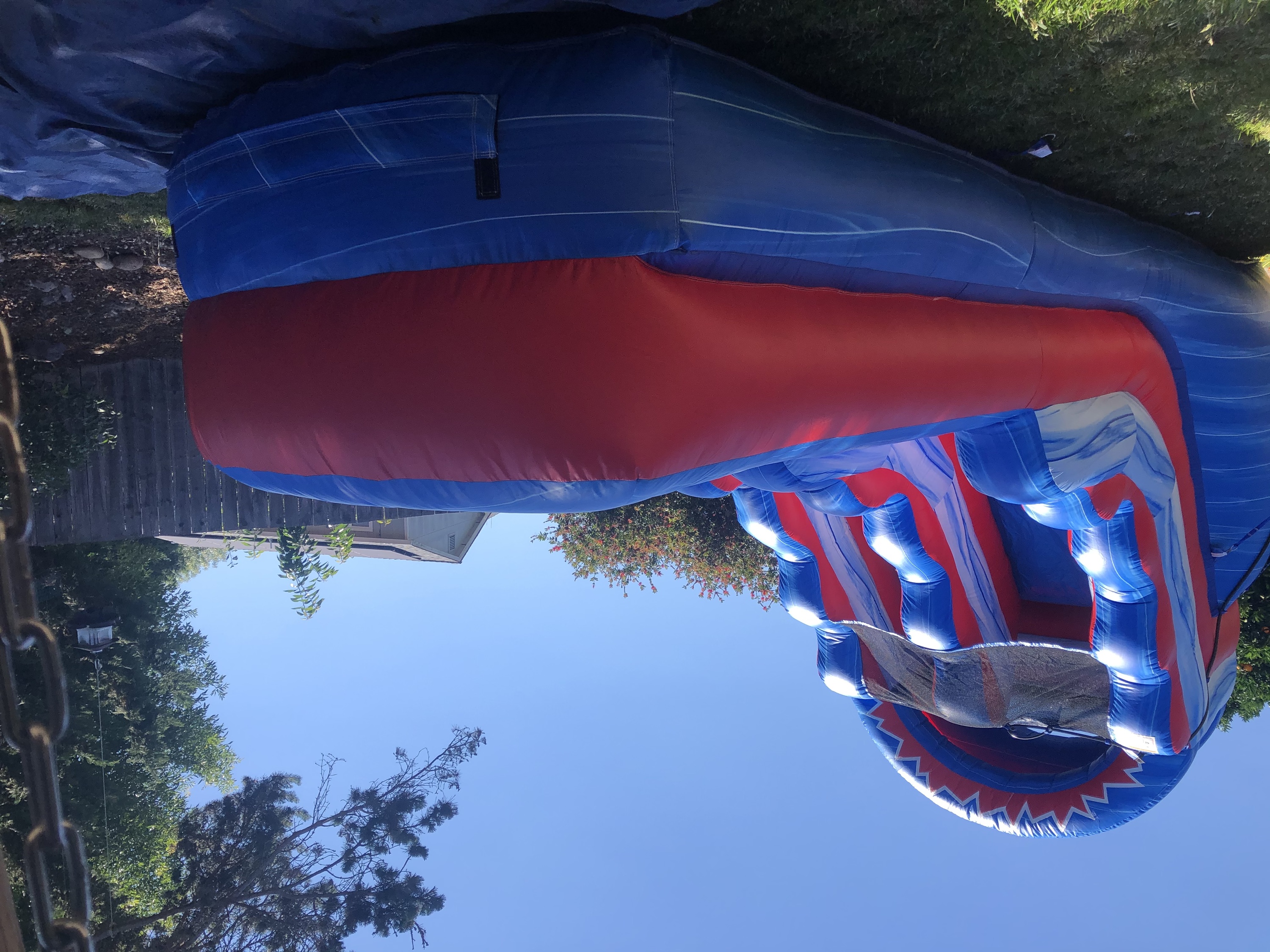 The Flash Water Slide
15'
This 15' water slide includes an inflated splash pad perfect for younger kids and cement set ups. Click on the more info button below to see a video of this inflatable water slide in action!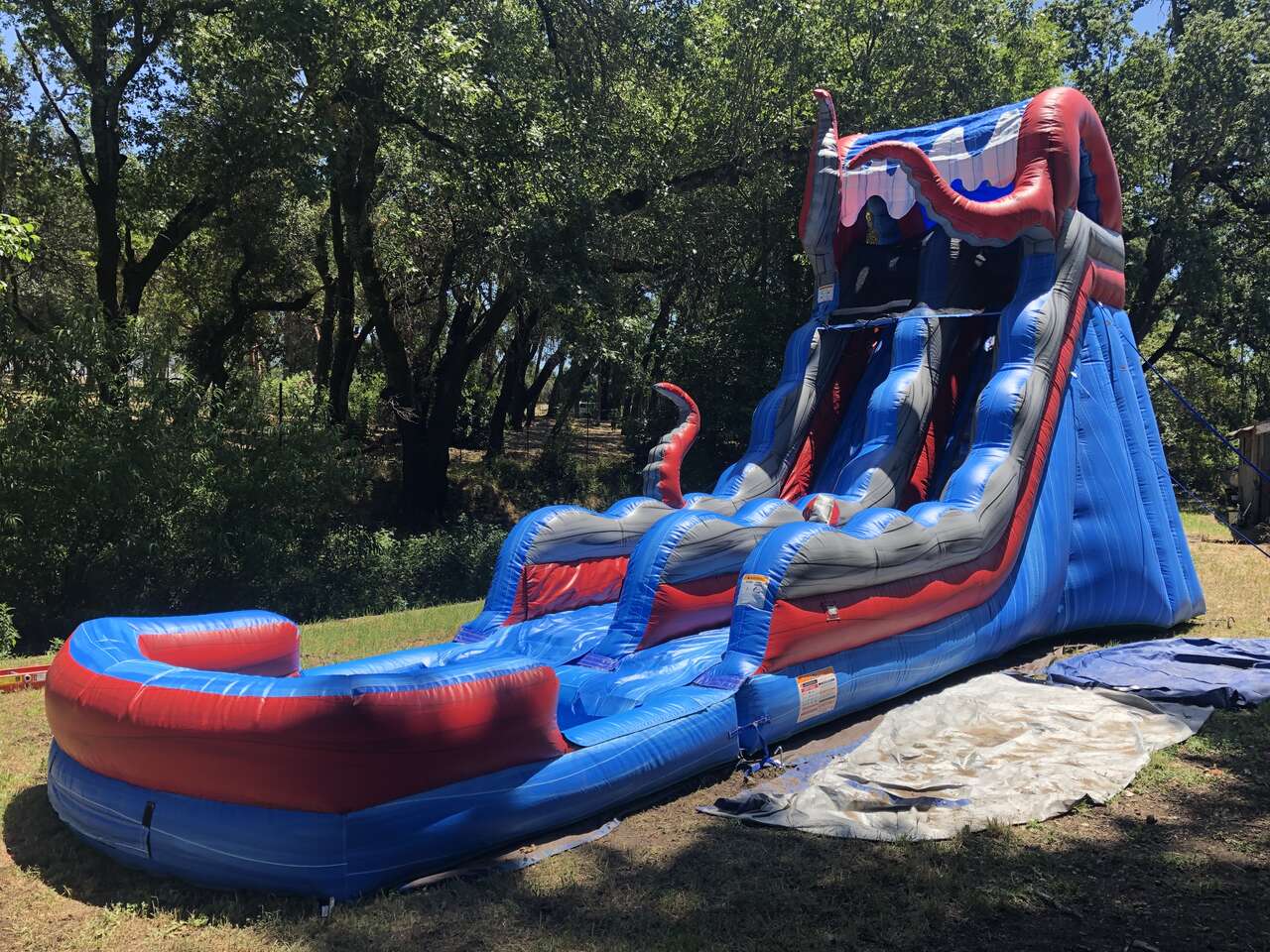 Ocean Battle Water Slide 19'
Our most popular water slide is the Ocean Battle 19' slide. With tentacles popping out everywhere it is a great center piece attraction for your birthday part or event. Complete with a landing pool and safety bumper, this slide is sure to be a splash hit.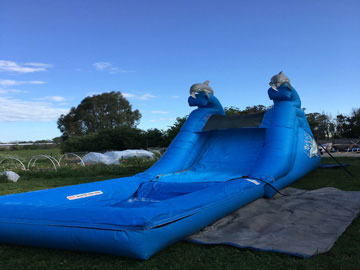 Splash Down Water Slide 12'
The Splash Down 12' slide is perfect for younger kids. This slide is rear loading with large stairs and a mild incline for ease to get to the top. This slide is eco-friendly as the pool only needs to be filled and water does not need to continually run to be used.


Stay Cool with Petaluma Water Slide Rentals
Nothing is more fun on a hot summer day in Petaluma than to go flying down and splashing into a cool pool of water with one of Jumpin' Jack's water slide rentals. Our large water slide rentals feature sprinkler hoses at the top to give you and your guests and fun and fast ride down to the pool or splash landing below. Our smaller water slides are eco-friendly and do not require constant running water to reach the pool below. All our water slides are cleaned and sanitized after every rental and delivered in ready to use condition for your party or event.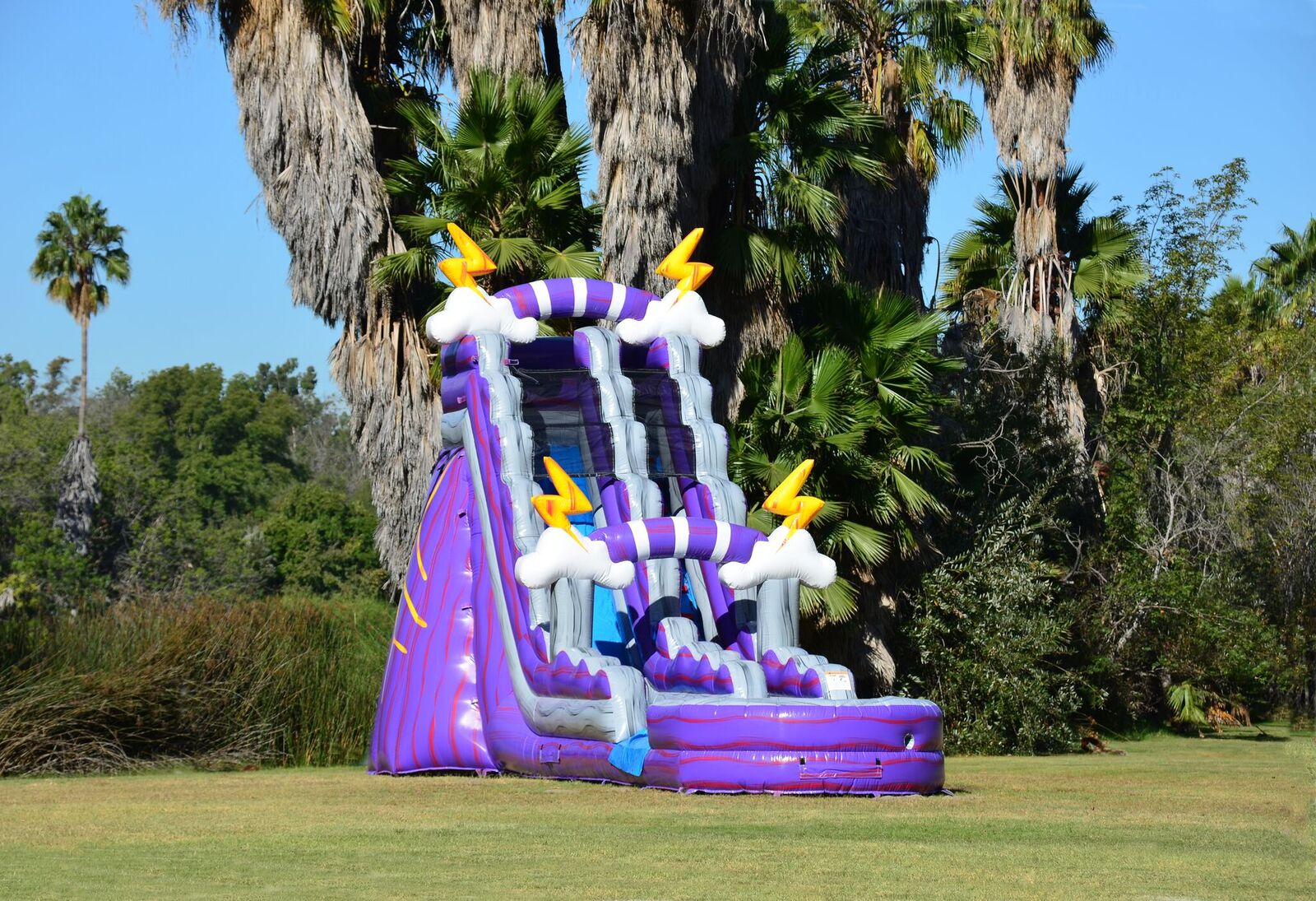 Purple Thunder Water Slide 19'
The Purple Thunder 19' water slide is a thundering hit for any party. This option has a large landing pool with safety bumper. This model makes it easy to get right back to the action with the front loading stairs directly out of the pool.


More Info
How to Book a Petaluma Waterslide Rental
Ready to book your next inflatable water slide rental for your upcoming birthday party or event? Our online ordering system is available 24/7 and you can reserve and sign your contract online. Once reserved you will immediately receive a confirmation email with your secured rental and date. Who knew it would be that easy? You can book online from the comfort of your home or directly from your office for your upcoming company picnic.


Just follow these simple steps to be on your way to complete an online order:

Click order by date and select your day and time to see what options are available for your day.

Click on your favorite available water slide rental and select add to cart.

Fill out your information for delivery and check out.

Moments later you will receive a confirmation email and we will give you a call the day before your event with the estimated delivery and pick up time of your water slide.

Petaluma's Favorite Water Slides
Watch the video on the left to see how much fun everyone can have with our Flash 15' slide. This awesome slide is fully inflated and you go sliding into a splash zone at the bottom. So much fun and excitements that the kids will wear themselves out going up and down this water slide over and over again!

We recommend slides 15' and above for adult use.